"Tommy's equipment is second to none. It is engineered to last, cleans up well, and doesn't show signs of aging."

Barry Nutter, Owner of Blue Sky Car Wash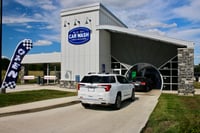 With three car wash locations in the Columbus Ohio region, and two scheduled to open soon, Blue Sky Car Wash is growing their business with Tommy's Car Wash Systems (TCWS). Blue Sky opened their first wash in 2013 and remains a locally owned, family business. They pride themselves on their state-of-the-art equipment, including an all-belt conveyor, and providing a great wash with friendly service. Barry Nutter, the owner of Blue Sky Car Wash, chatted with Tommy Car Wash Systems about the benefits he's experienced using Tommy's stainless steel equipment.
Q: Barry, how long have you been in the car wash industry?
I have been a part of the car wash industry for 16 years.
Q: Have you ever used other equipment lines outside of Tommy's? If so, what issues were you experiencing before you made the switch to Tommy's?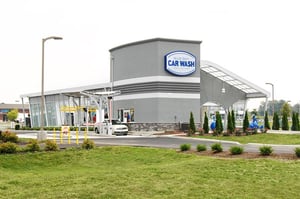 I was not using any other equipment lines outside of Tommy's when I went into the tunnel car wash business. However, I did do my research and due diligence. I purposely went to competitor's tunnels to see what they looked like after one and two years of business. I was amazed at how bad the equipment looked after just a short period of time. Arches were pitted, stained, and looked terrible. I then knew that Tommy's stainless arches were the way to go.
Q: Has the durability of our products held up over time?
Tommy's equipment, being all stainless steel, is the game changer when compared to other equipment companies. Owners who bought equipment from other companies are replacing their tunnel equipment every 6-8 years; our Tommy's equipment is still cleaning up well and looking brand new after eight years.
Q: What have been the added benefits to using TCWS products? And what is your favorite part about working with TCWS?
Tommy's equipment is second to none. It is engineered to last, cleans up well, and doesn't show signs of aging. We have 8-year-old stainless steel arches that look brand new. Tommy's has grown into one of the top car wash equipment companies in the industry, and they have great support.
Tommy's Car Wash uses stainless steel equipment for a reason. Compared to aluminum or powder-coated steel, stainless steel resists corrosion and rust, is more durable and able to stand up to pitting and other blemishes, and is easier to keep clean. With Tommy's Stainless Steel car wash arches your car wash not only looks better, but you also reduce the need for costly equipment maintenance and more frequent replacement.
If you would like to learn more about our stainless-steel car wash equipment, reach out to us on our contact page.