Mitters are a workhorse in your car wash tunnel. They scrub away dirt and grime for a cleaner vehicle. But anytime car wash equipment, such as a car wash mitter curtain, wraparounds, or top brushes, must come in direct contact with a car, it increases the potential for damage. Equip your car wash mitter curtain with Enhanced Mitter Cloth strips from Tommy Car Wash Systems to prevent damage and deliver customers a high-quality, more pleasant car wash experience.
Prevent Rear Wiper Damage without Wiper Bags
Rear windshield wipers are prone to damage. The back wipers are exposed, unlike front wipers that are typically protected by the cavity between the hood and windshield. The car wash cloth on a mitter curtain can easily get caught in the rear wiper. To mitigate this, car wash employees add a plastic cover on the rear windshield wiper of every SUV, hatchback, and minivan that enters the wash tunnel. This requires an attendant to remain at the wash entrance, slows down your wash process, and increases costs. And plastic wiper bags are not environmentally friendly.
Tommy's new micro-fleece mitter strips have an enhanced bottom section which significantly reduces the likelihood of being caught in a rear windshield wiper leading to fewer rear windshield wiper claims at the wash site. This improved bottom design should also eliminate the need for rear windshield wiper bags.
Car Wash Cloth Matters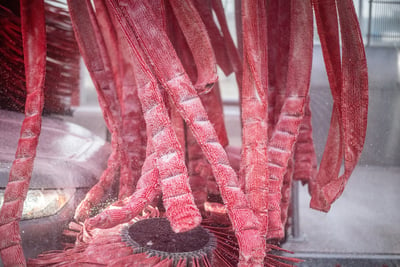 Tommy Car Wash Systems Enhanced Mitter Cloths are made with micro-fleece, which works differently than any other soft-cloth woven materials on the market. Thanks to its specialized short-pile surface, less water is absorbed during the washing process when compared with standard long-pile fabrics. The included closed-cell foam inserts on the bottom further reduce water absorption of the cloth while also mitigating issues with the windshield wipers. This feature dramatically increases efficiency, delivers a gentler friction clean for car surfaces, and produces less noise against the vehicle.
The Enhanced Mitter Cloths are available in 67-inch length strips and attach to the mitter with a micro-fleece top loop. The car wash cloth price is per strip. You can order the micro mitter strips for your car wash directly online or contact the Tommy Car Wash Systems sales team.