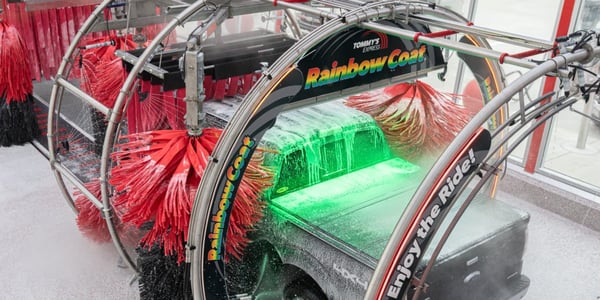 Fast, efficient production is one of the single most important factors for the health and sustainability of a modern car wash, and not only because good production answers high volume. In fact, good production GENERATES high volume.
The ability to maintain fast conveyor speeds with excellent wash quality at all times and in all conditions has a directly beneficial impact on overall wash performance, customer experience, and value—regardless
of that wash's baseline volume. Here's why:
Accessibility
Pay lane can stack up quickly and without warning. Maintaining a fast conveyor speed keeps those lines moving and limits backups or bottlenecks. Having a short line or a clear shot to open lane is an invitation to passing customers to take a quick stop and get a wash—no wait required.
Convenience
Express car wash customers are hungry for an experience that delivers a clean car at great value, fast. The quicker your system can process a payment or membership, get a vehicle through the entrance queue, and send it down the tunnel the better the more valuable your service is too your busy customers.
Speedy visits should be always considered a core component of your facility's value proposition.
Performance
When the clouds part and weekend weather turns bright, warm, and clear it's not uncommon to see customer cars (including high numbers of non-member vehicles) stacked all the way to the road—which means that all that revenue is essentially up for grabs.
Maintaining high baseline production speed at all times empowers both team members and equipment to more easily ramp up when needed without sacrificing a good customer experience or wash quality. This means your team will be better able to clear the stack and bring in that tight, constant, continuous
stream of customers when it matters most,
But how do you establish good car wash production?
First, Training
Excellence must be a habit. Each team member should know their role inside and out, understand the expectoration of their position, and have daily checklists or procedures that require them to take ownership of the wash's performance. Car washing is a team sport, and cooperation and preparation are absolutely critical.
Equipment and Product Selection
Delivering good wash quality is easier at slower conveyor speeds. To get the same performance while washing cars faster you need wash equipment and application products designed to meet that goal, and you need to evaluate and maintain that performance on a constant basis. Hourly walkthroughs and wash quality checks cannot be optional.
Fast, Streamlined Systems and Processes
Optimize your system as a whole. Where are the bottlenecks, the hang-ups, or the delays? Common pain points include point of sale systems, manual prep, and loading confusion. Correct the problems and strive for a fast, seamless experience that keeps the cars flowing.
Tommy's Express: Bringing it All Together
In 2019 Tommy Car Wash Systems and our family of companies celebrates fifty years. In that time we've grown from a single local car wash in Holland, Michigan into a renowned international car wash equipment supplier and developer, and now into a rising car wash franchise.
Tommy's Express Car Wash is the peak in express car wash design and operations, putting together exceptional facility design, equipment, control systems, membership technology, chemistry, training, and marketing, resulting in one of the highest grossing franchise opportunities available today.
If you're interested in joining the Tommy's Express franchise yourself, please visit our franchising page today!
Tommy Car Wash Systems