The advent of the in bay automatic car wash gave vehicle owners an easier and less-expensive exterior wash than washing at home or using a self-serve car washes. Often located with a service station or convenience store, the in bay wash provided site owners with an additional revenue source on their property.
But with automatic car washes offering innovative new equipment, membership options, and service enhancements, in bay washes have lost their edge. In addition, in bay washes can take 2-3 times longer per car than an express tunnel wash, and their outdated technology rarely gives cars the same level of cleanliness.
Converting your current in bay car wash to an express tunnel is easier than you might think and can help rejuvenate your car wash revenue stream.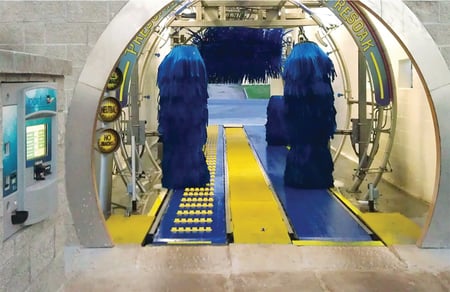 In Bay Automatic Conversion Benefits
The number one reason for conversion is to increase throughput. "These are people who are doing well, who are successful, but who cannot wash enough cars. It's taking a good business and making it great," explains Ryan Essenberg, President of Tommy Car Wash Systems. "The second reason may be to reinvent or rejuvenate a facility to draw business back."
Increase Throughput
In bay car washes take about 5-8 minutes per wash, per vehicle. So at best, you're only washing about 12 cars an hour. And when people see a line at your wash bay, they're not likely to jump in it. Alternatively, an in bay conversion with Tommy Car Wash Systems can process 1 vehicle per hour for every foot of belt length you have. For example, a 45' in bay conversion can wash up to 45 cars per hour. That's nearly four times the potential revenue of a old-fashioned in bay!
Higher Brand Value
Innovative new equipment combines with a fresh, eye-catching look to attract customers to your wash. If part of a service station or convenience store, your car wash becomes an essential value-added service that your customers make part of their routine.
In bay Automatic Conversion Process
The in bay conversion process is easier and more cost-effective than you might think. Because we use the existing car wash's structure and land, your initial investment is much less than building an entirely new car wash. In addition, a new building or zoning permit may not be needed for these renovation projects, and, in most cases, the renovation can proceed as a simple rehabilitation rather than a major construction project.
Tommy Car Wash Systems Equipment
The Tommy Car Wash Systems equipment package optimizes your operations and makes the conversion as seamless as possible. Our renovation includes adding the patented Tommy arches, wash equipment, and the Tommy Transporter® dual-belt conveyor for easy self-loading, ideal for c-store or stand-alone wash environments. In addition, the backroom equipment is upgraded to make it easier and more efficient to manage wash operations and detergent usage, even remotely. The tunnel is also equipped with an Entrance Module and voice automation to guide customers onto the conveyor without the need for a full-time attendant.
Tommy's state-of-the-art car wash equipment reduces maintenance, detergent, and water use, cutting operating costs while maximizing profitability.
Our President and Chief Innovation Officer, Ryan Essenburg, talks to you about in bay automatic car wash conversions and the process we take to convert your old in bay to a short conveyorized tunnel.
Convert your in bay today!