Perhaps you've been interested in owning or investing in a car wash for most of your life. Or maybe you just started gathering information on the car wash industry and this is the first thing you are reading about investing in a car wash. Either way, this article will cover why a car wash is a great investment, and how the team at Tommy's can help you become successful. We will explore the following
We have been in the car wash industry for over 50 years, and as our founder Tom Essenburg said while being inducted into the Car Wash Hall of Fame, "In my 50 years, this is the most exciting time to be in the business." Over the years, we have pushed the limits on processing power and performance. We eventually started manufacturing our own equipment in the early 2000s to better meet our needs and to be able to process the volume of vehicles that took interest in our locations. Tommy Car Wash Systems was born to manufacture and sell equipment throughout the world, and today has equipment in nearly ten countries and thousands of car washes. We have equipment for any size investor and size tunnel that could benefit you when thinking of opening a car wash.
Growing Industry
With the recent downturn in the stock market and business across the globe at a standstill because of the COVID-19 pandemic, some investors are beginning to think about new ways of investing their money. Our prediction is that some investors will want to pull money out of the stock market in favor of an investment they can see and touch on a daily basis. They will be looking for an investment that has a great ROI and a low labor cost to run.
Professional car washing is an industry that is growing rapidly, with its estimated sales of nearly $11 billion in 2019. According to the 2019 Consumer Study put on by the International Car Wash Association, at least 83% of Americans who own or lease a vehicle used a professional car was service at least once in the past year. That, coupled with the concurrent drop in at-home washing to 42% in 2019 (down from 54% in 2016), gives you the perfect investment for a growing industry.
Fragmentation
The top 10 QSR (quick service restaurant) brands make up approximately 51% of all QSR options available. Compare that to the Top 10 Conveyorized Tunnel Car Wash brands in the United States, which make up only 3.1% of the nation's tunnel car washes. In terms of investing, that kind of fragmentation and lack of market domination spells one thing—opportunity. In addition, the car wash market is quickly evolving from a fragmented "mom and pop" industry to a more sophisticated one with professional brands and facilities. These market factors bolster the case that the timing is perfect to invest in an express car wash.
Automation
Over the next five years, we are predicting that most people across the globe will be hypersensitive to hygiene and cleanliness. People as a whole will also be looking for more contactless interfaces and interactions. COVID-19 has made us extremely aware of every surface that is touchable and could transmit the disease. With people wanting to limit what they touch, an option that requires less (if any) physical contact is likely to gain traction.
While the long-term effects of COVID-19 are yet to be seen, our initial predictions are that people will be seeking investments that include more automated systems and less physical contact. With the growing popularity in unlimited wash club programs and contact-less payment features built into mobile apps, consumers can sign up for their monthly wash club package via a smart phone and be able to enter a wash without even rolling down their window.
The Tommy's Express Opportunity
There are many benefits of franchising and our Tommy's Express car wash franchise opportunity is leading the way in building a nationwide chain with a consistent platform and consumer experience, with great benefits to franchise owners: low labor, no perishable items, a membership based model, and great returns. Current small business trends lends itself to car washing being a great investment during these times. We are the only offering that provides everything you need from start to finish to get into the business – site selection expertise and guidance, construction management, proven marketing, operations, and support. Tommy's Express ranks in the Top 10 Car Wash Brands of 2020 by Professional Car Wash and Detailing.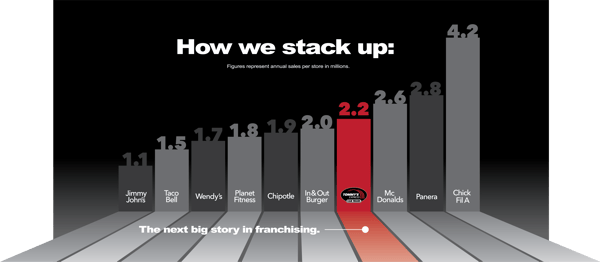 Today there over 75+ Tommy's Express franchises open across the country, with over 200 more in some phase of development. We expect to have 100 open within the next 12 months. At the core of all of this is who we really are – a group of Michigan men and women committed to sharing our wonderful model with the world, to serve owners with a great business model, and to serve communities with convenient, top-notch car washing.