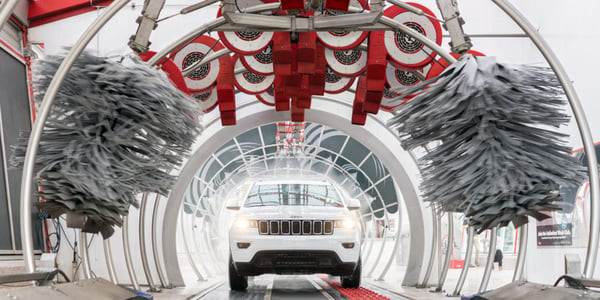 The Tommy Car Wash Systems team has been a part of literally thousands of car wash developments across the world, many of which have resulted in some of the most advanced and successful car wash facilities in operation today. And through all of this experience our team has noticed a distinct pattern:
Small towns are some of the best locations out there for express car wash success.
This seems counterintuitive. Even our own location criteria specifies lots with high vehicle traffic volume and a high population density. Higher populations should yield a larger customer base by default, and volume is especially important for large, production-focused express car wash facilities (our specialty).
But small towns offer something that cities, large or small, often lack: community.
When a modern, high quality car wash comes to a smaller size community we've seen, again and again, a fantastic reception as locals notice the new development, talk about it, look up information online, and get EXCITED! And that excitement generally translates directly to high membership enrollment
at or even before the grand opening, as well as high levels of activity during the facility's continued operation.
While cities do boast a larger population, more vehicle traffic, and often a higher average income, the extra activity and crowded advertising media in the area mean that new car wash developments can easily go unnoticed and uncelebrated—at least compared to a smaller community's reaction when the next big thing comes to town.
This is not to say that building in a smaller community guarantees success, or that car washes in larger population centers are doomed. There are countless factors at play in any car wash development, from marketing deployments to wash quality, customer service, local competition, and much more.
But we can say that smaller communities should not be overlooked or discarded out of hand when searching for development locations. Many have a lot more to offer than prospective operators may realize.
The Tommy's Express Car Wash Franchise
Tommy's Express is a fast-growing national car wash chain that uses the technology, site designs, marketing expertise, and operations procedures developed by the Tommy Car Wash Systems family of company over the past fifty years of operation.
With a stunning building, advanced systems and equipment, and the only comprehensive operations package in the car wash industry, Tommy's Express Car Wash has been developed to deliver the absolute best car wash customer experience available anywhere.
To learn more please visit our franchising page.
Tommy Car Wash Systems