Take advantage of better drying with Tommy Car Wash System's "Direct Mount" blower system! More power, less cost, less space, less electric usage, & better drying! We hit a home run with this one!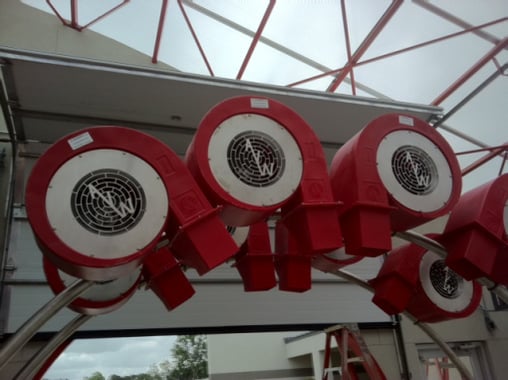 How It Works
The new blowers are contoured to the shape of the car and attach directly to our patented round arches. Thanks to design improvements, the new blowers have significantly better energy efficiency, and output more air than anything we've ever seen while running on 10 or 15 horsepower. In many applications, this new blower system has reduced the number of necessary blowers by two to three – lowering overall operating cost and upfront costs.
The blower system takes up only eight feet of space (only 6′ floor footprint), leaving plenty of extra room. New car washes can get more cars per hour with shorter tunnels with Tommy Car Wash Systems.
"This is the driest car I've ever seen!" remarked one of our customers after seeing the blowers in action.
"We we're able to reduce from 12 blowers down to 10 on our new site because of the intensity of the blowers" -new Tommy operator.
The cool thing is using the Tommy arch, the blowers have unlimited configuration options. You can move them around, and rotate them, while also rotating the angle of the housing outlets and the nozzle angle. The arch is a smaller shape that brings the blowers tight around the radius of the car. This keeps the air all moving in the same direction and makes so we can fit more blowers in a tight space without them fighting each other.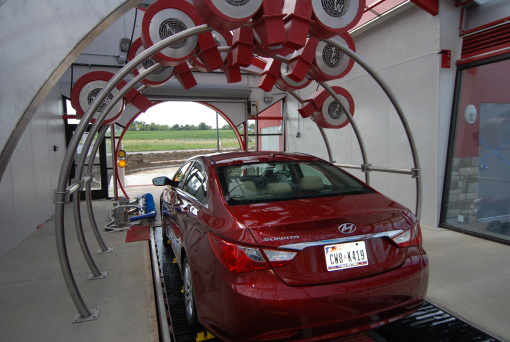 Systems options are as follows:
Single Direct mount arch: $1,995 for arch, takes up 2′ of space, and holds up to 8 blowers.
Two Direct mount arches: separated with 5′ spreader, takes up about 7′ overall and can hold up to 16 blowers.
Three Direct mount arches: separated each by either 3′ or 5′ spreaders consolidated takes up 6′ of floor space and can hold 24 blowers.
Due to some new technology with both the impeller and the nozzle design we get extremely high output and also a "thick" column of air which keeps water moving one direction and allows us to dry in nearly one pass.
All blowers use TEFC motors capable of being run in wet environment.
Color options: Red, Blue, or Black.
Add wedges to your order for deflecting the nozzles if you like.
Learn more about Tommy's new Complete Blower System at www.tommycarwash.com, or call 616-494-0771.
Originally published at tommycarwash.wordpress.com