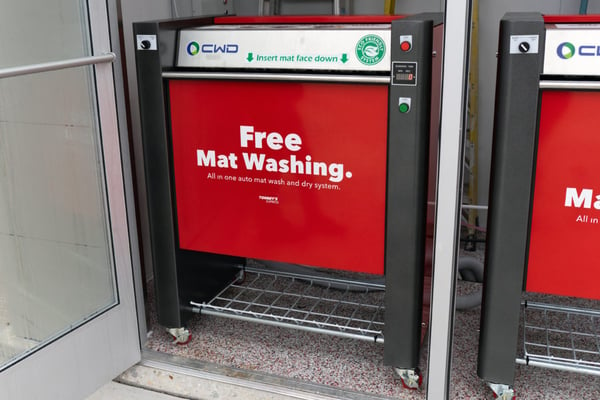 The Rhino-Mat Automatic Floor Mat Cleaning System is the perfect solution for express car washes looking to give their customers a truly robust vehicle cleaning destination. Here's why:
Those who have experience in the car wash industry know that the express car wash model has a number of notable advantages over other car wash systems like inbay, rollover, or hand-wash:
Faster washes and a convenient overall customerexperience
Very high hourly and daily capacity
Automated systems reduce required labor
Good menu options and upsell potential
But what about full service or flex service washes? While express washes can generally compete with these on speed and price, there is a substantial customer segment who are interested in interior cleaning services to pair with their exterior wash—a segment that most express washes meet half-way with self-service interior detailing aids like vacuums and detail kit vending machines. And this
where the Rhino-Mat Floor Mat system shines.
What is it?
The Rhino-Mat Automatic Floor Mat Washer is a unit around 40" x 40" x 20" inches that can be installed under an overhang or exposed to the elements. Once fitted with a simple push button start or some form of payment processor it accepts, washes, dries, and drops a huge variety of commercial vehicle floor mat types.
Why Rhino-Mat?
Unlike some other floor mat laundering machines, the Rhino-Mat is Energy Safe & ETL Certified, requires no extra hook-ups, can be easily moved on wheels or installed more permanently on location, and delivers OUTSTANDING cleaning performance in 30 seconds per mat.
All in all, customers love it.
They really do. When the weather finally clears after winter or a rainy, overcast stretch everyone wants to get out in the sun, and cleaning the car is always on the to-do list. By offering fast, convenient, and either
free or affordable mat cleaning combined with vacuum service and fast exterior cleaning, your car wash becomes a car care destination.
We've seen it over and over again, in situations where our floor mat cleaners really stand out in customer reviews and feedback and help compliment the car wash's regular operation. From ride-share operators to soccer moms to contractors, the Rhino-Mat charms them all.
Available Now!
Tommy Car Wash Systems offers Rhino-Mat Automatic Floor Mat Washers in both red and blue finishes with push button start and bill/coin acceptors. Visit our Rhino-Mat webstore listing to learn more, including price, technical specifications, and installation information.
Tommy Car Wash Systems