We make your wash more efficient.
Our founders have been tinkering with the wash since the very beginning. They designed parts and systems with the goals of faster processing speeds, more efficiency, and a better wash.
Our Self-Loading Car Wash Entrance Module is based on over five decades of car wash industry experience.
It's the pinnacle of easy self-loading car wash design.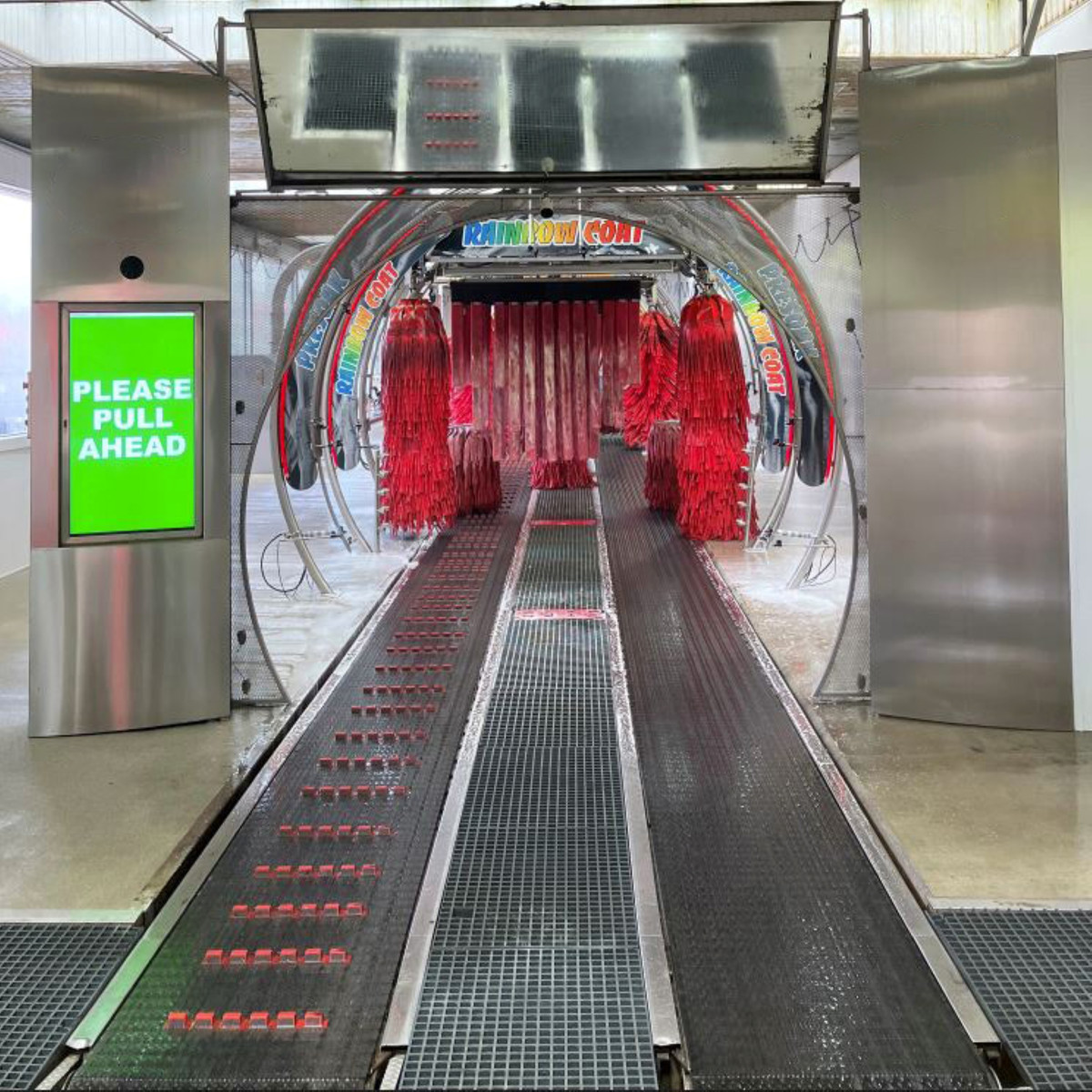 Eliminate car loading issues
There are plenty of stories of drivers avoiding car washes due to the stress and phobia of loading.
Old chain-and-roller style entrances are intimidating.
This car wash entrance screen is different.
The module sits at the entrance of the wash and instructs and guides customers through a simplified loading process using the Tommy Transporter Dual Belt Conveyor.
Here are the perks for owners and benefits for car wash visitors:
Tough in weather. The wide-arch module features a specialized 46" LCD TV built for crystal-clear clarity in direct sunlight conditions. The screen is weatherized and waterproof for use inside the high-humidity environment of an automatic car wash.
Eliminates labor need at entrance. The TV provides clear, uncomplicated instructions during the self-loading process. There's no need to use an employee to guide drivers on.
Belt or chain and roller. The arch fits either a custom sign welcoming customers into your wash when using a conveyor belt, or a full-width mirror angled over the loading area so customers can visually load if loading on a chain-and-roller conveyor. It reduces anxiety on the spot.
High-tech model. The entrance module is easily installed and integrated into your car wash's controller system for screen automation.
Take your car wash into the future
Forward-thinking business models are looking for ways to reduce costs, lower labor, and increase efficiency.

Reach out to our team for more information about entrance modules and how you can implement the technology at your car wash.