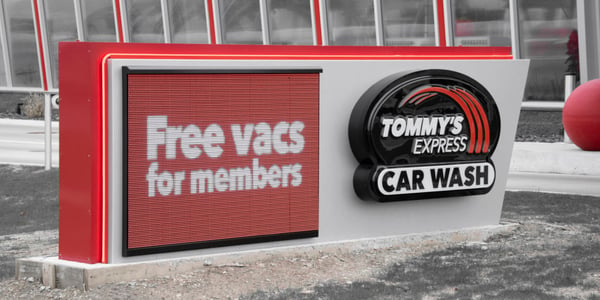 Customers love free vacs, but are they still the right choice for car wash operators looking towards 2020?
Free vacuum service has long been considered the standard in the car wash industry, including in our own corporate washes. Not only is free vacuum service valued by customers, but it allows express or other exterior-only car washes to compete with full-service car wash operations—especially in the difficult economic conditions of the last decade.
But times have changed and car wash operations should no longer assume that free vacuum service is always the right option.
The Case for Paid Vacuum Centers
A strong economy and the widespread adoption of membership programs demonstrate that customers are both willing and able to pay—and subscribe—for services that provide real value. At the same time mobile technology has enabled washes to offer on-demand vacuum service as a component of the wash's membership offer, increasing the value and sense of priority that that members enjoy while other guests are still able to purchase vacuum time as needed.
Aside from increasing the value and attractiveness of car wash memberships, this program increases the likelihood that paying vacuum customers will also grab a vending kit while they're at it, further driving revenue and dramatically reducing the overall wear and tear on the vacuum equipment.
Real World Case Study – Jenison, Michigan
In late 2018 Tommy's Express Car Wash launched a new corporately-owned express car wash facility in Jenison, Michigan. This facility is located only four miles from a sister location in Grandville Michigan, a development strategy designed to establish critical density in the Grand Rapids region.
Unlike the Grandville location the Jenison car wash included a modified paid vacuum system. Using the Tommy's Express mobile app members were still able to use the vacuums for free, but all other guests had the option of purchasing vacuum time bundled with a vending detailing kit for $3.
The results?
Combined vacuum center sales averaged nearly five cents per car during the testing period, significantly higher than vacuum center sales of less than one cent per car at the sister location and other corporate washes.
However, the test was ultimately ended and the vacuums converted back to a free system due to other factors. Jenison and the other Tommy's Express washes in the area are competing with a large number of
independent and branded car washes, and with Tommy's Express' higher pricing it was determined that free vacuum parity was important for the sites to remain competitive among a specific segment of the customer population.
Moving Forward
With fewer and fewer full-service car washes left in the US the initial driving force behind free vacuum service is disappearing. In the absence of a highly competitive local market, conversion to a paid vacuum system may allow operators to add another level of value to their membership programs, generate additional revenue, and reduce the overall wear and tear inflicted on their vacuum systems.
We expect to begin seeing more and more operators retrofit large, costly free vacuum centers with points of sale and/or membership-integrated alternatives, and will continue to carefully test and develop this concept in various markets around the nation.
Tommy Car Wash Systems