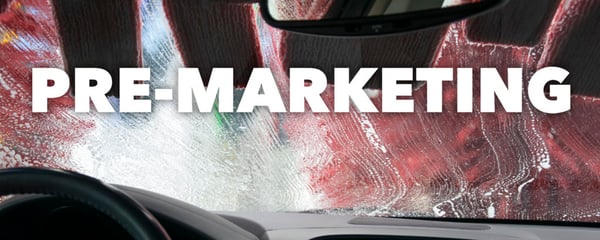 Your car wash is nearly finished! Paint is drying, equipment is installed, and you're getting ready to dial in your chemistry. But as your official open date gets closer you can't help but wonder; will there be any customers?
First Impressions Count!
Prior planning
prevents poor performance. Early car wash success and customer base development don't just happen. They are born of planning, strategy, and energy—especially when it comes to marketing.
So how do you develop a marketing plan that's proactive, well-rounded, and effective, and when should you deploy it?
1. Develop Your Brand
Your brand, encompassing your logo, colors, style, and voice, can't simply be made up as you go. This is 2020—businesses and services everywhere have professionalized their public face and uneven or ad-hoc advertising will turn off customers who are looking for a trustworthy car wash solution.
So take the time to carefully develop your brand with the help of marketing professionals. You should receive a formal brand guide as well as high quality logo resources and other branded assets that can be used for many years to come, giving your advertising a recognizable and consistent look and feel in repeated deployments as your facility continues to operate.
2. Launch Your Digital Real Estate Well in Advance
As soon as the public notices your building or signage going up they'll start looking for information about you online. This early interest is extremely valuable and it's critical that you have the right materials out
there to be found and to answer and further that early interest.
This means setting up your FaceBook Page, website, and other selected social media months before your business is actually ready to launch, complete with regular posts, your core messaging, and options to allow customers to follow or sign up for updates, whether through push notifications or emails.
3. Take a Multi-Channel Approach
Between digital and traditional advertising wash operators have plenty of marketing options to choose from, and over time you'll have the opportunity to evaluate different messaging and formats and see what type of marketing gives you the best return on investment.
But prior to your grand opening you won't have this luxury, so commit to launching your campaign with the necessary investment across a wide range of channels in order to hit the best possible cross section of potential customers in your area.
4. Nail Your Timing
In the weeks immediately before you open you should dispatch mailers that clearly lay out your grand opening date as well as any promos or special offers you'll be offering. Immediately after you open, reliable marketing options include radio advertisements, another round of mailers, and localized social media and other digital advertisements emphasizing that you are now open for business. "Try us out for free!" incentives often go over very well at this stage.
It is important that all these materials have the same theme and appearance, as it may take multiple exposures to prompt a reaction from your potential customers.
5. Don't Neglect Grassroots Marketing
Some of the best marketing happens when your team gets out in the community and starts building connections with other business owners (dealerships, auto body centers, oil change businesses, etc.), nonprofit organizations (youth sports teams, charitable causes), and regular customers.
Whether you're independent or part of a national brand, telegraphing your local involvement and community heart has to be top priority.
6. Relax
Good car washes are in demand, and if you can nail the basics you have a much better than even chance of being successful.
What are these car washing basics?
Maintaining facility cleanliness and
professionalism
Delivering a good wash result
Providing excellent customer service
Leveraging effective ongoing and seasonal marketing
So relax, have fun, and don't be afraid to engage your customers as they visit and really get involved in fielding good and bad reviews, answering questions, and engaging your customers directly with
contests, challenges, and incentives.
Tommy's Express: Bringing It All Together
The Tommy's Express franchise operates a uniquely modern, performance-focused family of car washes based on the widely-renowned Tommy Car Wash Systems building design and high performance equipment package. All independent Tommy's Express operators benefit from national brand recognition, hands-on operations training, national marketing campaigns, reputation management services, and proprietary franchise-exclusive technology and services.
Tommy Car Wash Systems